If you love a good mystery you know that secret passageways are the epitome of suspense and intrigue. What is behind that door and through that hidden passage? Secret passageways can be built into your home to boost privacy and convenience. Our favorite passageway ideas include the:
Bookshelf doorway. It may look like a wall full of books but it actually opens up to reveal a passageway to the next room! Ensure the entrance stays hidden by strategically placing books so the portion that opens looks similar to the part that stays in place.

Contemporary Bathroom via Houzz
Mirror on the wall. A stationary frame without any exposed seams is ideal for holding a large decorative mirror and hiding what lies behind. This method is perfect for camouflaging a large vault or safe built into the wall.

Contemporary Closet via Houzz
Rotating stairs. Guests to your home may never realize that the stairs they're using actually rotate to reveal a secret passageway. "Flipping" the stairs up like a garage door is a relatively easy installation and can be controlled with a remote control.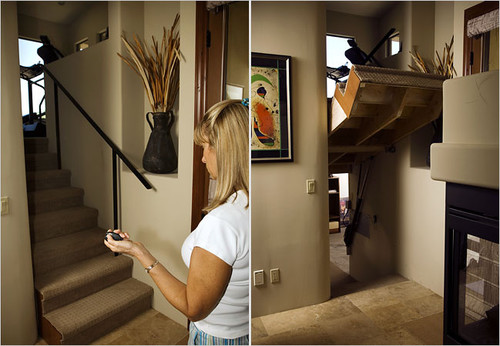 Spaces by Gilbert Doors Creative Home Engineering via Houzz
If you want to learn more custom home design ideas contact us at Country Club Homes. We are committed to meeting the individual needs of each of our clients.