Universal design is the process of creating a home that works for all residents, regardless of ability or age. Many universal design homes are created specifically for homeowners that are in wheelchairs or have other physical needs, but universal design goes beyond adding ramps and making sure doorways are wide enough to accommodate a wheelchair. Some of the most effective universal design elements are smaller details that make daily life more comfortable and easy to navigate.
Multi-level countertops: Countertops at varying heights impact all family members regardless of universal design needs. Raised countertops work well for your tallest family members, standard countertops are great for food prep, and lowered sections meet universal design needs and are the perfect homework spot for kids.

Contemporary Kitchen by Other Metro Kitchen & Bath Designers Snaidero via Houzz
Custom shower niches: Niches in a tiled shower are typically located midway up the wall, but this is likely too high for most homeowners in need of universal design. Move the niche down and place it in a spot where it is most easily accessed.

Modern Bathroom via Houzz
Accessible utility controls: Utility controls are often located in out-of-the-way places such as the basement. Move these controls, including the water valve shut-off and electrical panels, to the garage and ensure they are low enough for easy access.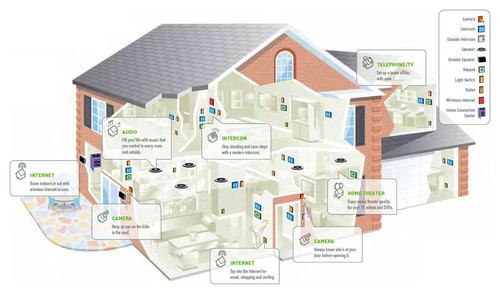 Traditional Drawings by Gulfport Electrical Contractors Haynes Integrated Technologies via Houzz
At Country Club Homes we pride ourselves on keeping current with new home design trends. Contact us today to learn more.