Choosing a new granite for your custom kitchen remodeling project can be a bit overwhelming. Granite is a big investment and there are so many fantastic choices. Before you make your final granite selection ask yourself:
How did the samples look in my house? Looking at granite at the slab yard isn't enough. Make sure you bring the samples home with you so you can see what they look like in your kitchen. This will give you an idea if they are too light, too dark, or simply not right for your home.

Traditional Kitchen via Houzz
Is the granite too dark? Dark granite reflects light beautifully and looks fantastic near windows and in the glow of under cabinet lighting. However, this reflection will make streaks more noticeable. Decide if you can live with the possibility of streaks and the potential for increased cleaning.

Contemporary Kitchen via Houzz
Have I inspected the slabs? Inspect individual slabs for large cracks and fissures that will undermine the quality. Look at the back of the slabs as well for structural integrity.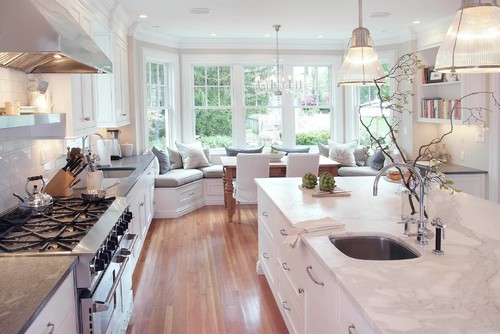 Traditional Kitchen by Flemington Architects & Building Designers Pickell Architecture
If you're considering a custom kitchen remodeling project contact us at Country Club Homes, call us at 203-762-0550 or visit us at www.countryclubhomesinc.com. We are ready to help bring your design dreams to life!