When you're in your home office, you need to be able to focus and stay on task. The right design can evoke feelings of dedication and resolve while also offering the privacy you need to work effectively. We recommend keeping these home planning tips in mind when designing your home office. They'll ensure that everything fits perfectly into your space, and that space is suited for hard work.
Flat filing cabinets are very handy because they take up far less space than traditional filing cabinets. They're a great choice if you need to store architectural plans or other large, flat items.

Traditional Home Office via Houzz
Choose a desk that evokes a simple, minimalistic vibe to keep your mind clear while you're working. Floating desks and built-in desks are both great options and can easily be incorporated as part of custom home design.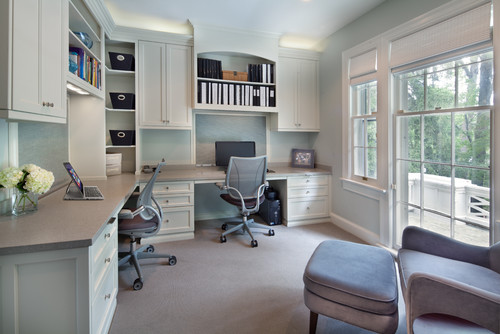 Transitional Home Office via Houzz
We recommend taking inventory of your office equipment before you begin designing your space. Draw in space for a printer, filing cabinets, a computer, your shredder, shelving, seating and other elements you deem necessary.

Traditional Home Office via Houzz
At Country Club Homes, we help you take these and other home remodeling tips, and make them a reality for your space through quality custom home design and planning. Contact us today to learn more about our luxury home design services.  Call us at 203-762-0550 or visit us at www.countryclubhomesinc.com.